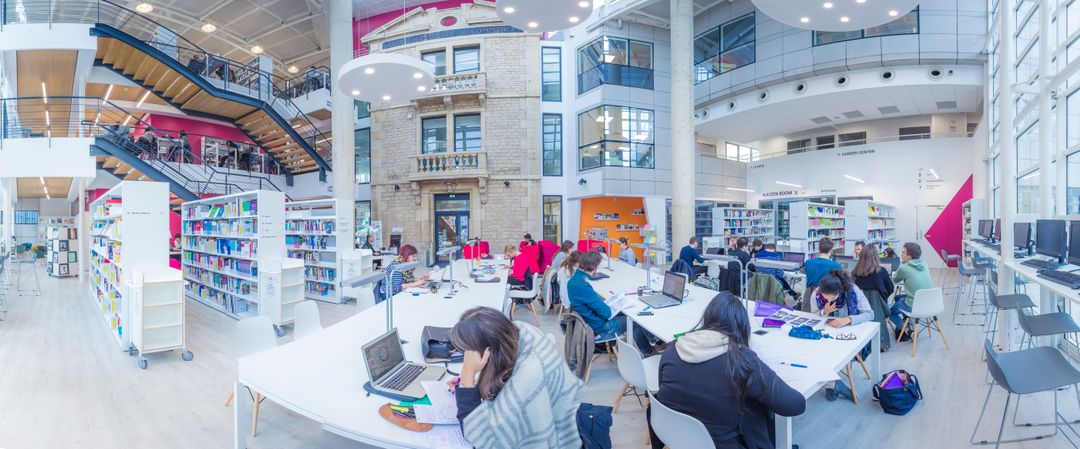 Learning Center BSB
Learning Center
Workshops
No resource is currently available for the selected slot.
Modify your search criteria (time, duration...) in order to find a resource.
Boostez vos apprentissages ! (coaching séance d'accueil, découverte)
Vous souhaitez booster votre travail d'étudiant ? Quel que soit votre objectif, parlons-en ensemble lors de cette séance d'accueil-découverte et envisageons un accompagnement personnalisé ! (en français uniquement)
---
Boostez votre bien-être et vos apprentissages avec la méditation de pleine conscience (séance découverte)
Expérimentez la méditation de pleine conscience et découvrez ses bienfaits sur votre bien-être et sur vos apprentissages ! (atelier en français - 2 inscrits minimums)
---
Boostez votre bien-être et vos apprentissages avec la méditation en pleine conscience (séance complète)
Atelier en présentiel - Séance complète de méditation de pleine conscience. Pré-requis : avoir suivi la séance découverte, 2 personnes inscrites minimum
---
Citer ses sources et éviter le plagiat / Quote your sources and avoid plagiarism
Dans cet atelier, nous vous aiderons à citer une source à l'intérieur d'un texte ou à rédiger une bibliographie, en respectant la norme APA. In this workshop, we will show you how to quote a source in your text or to make a bibliography with the APA norm.
---
Comment trouver un ebook
Vous cherchez des ebooks disponibles sur le Digital Learning Center ? Cet atelier est pour vous ! Séance de 11h30 en ligne - Séance de 16h30 au Learning Center, dans la salle visioconférence (Mezzanine 1)
---
Fake News
L'objectif de l'atelier est d'acquérir quelques réflexes pour évaluer l'information en ligne. Séances de 16h30 en présentiel au Learning Center à Dijon dans la salle visio-conférence. Séances de 11h30 en distanciel sur Teams.
---
Focus on ProQuest One Business Database
The Learning Center is offering you a presentation of its latest database and its : 2.600 academic journals, 2.500 specialized journals, 55.000 theses, thousands of market studies... Monday Workshops on Teams
---
Fresque de l'information
Atelier en présentiel - La fresque de l'information, inspirée de la fresque du climat, est un serious game conçu pour découvrir, par le jeu et l'intelligence collective, les grands enjeux des médias et de l'information.
---
Initiation au Jeu de Rôles (Role'N PLay)
Le jeu de rôles c'est un genre ludique assez particulier. Il ressemble au jeu du Loup-garou avec plus de libertés : vous incarnez un personnage et décidez de ses actions au cours d'une aventure. Les dés décideront de la suite (3 inscrit.es minimum)
---
MBSR (BSB staff only)
Séance de méditation en pleine conscience (Mindfulness Base Reduction Stress) animée par Catherine POURQUIER - réservée au personnel BSB uniquement
---
Musical Nap / Sieste Musicale
Pour vous ressourcer pendant la pause déjeuner, une musique relaxante est diffusée en salle zen / To help you revitalize during lunch break, we put some relaxing music in our Zen Room
---
Professional Thesis
Customized workshop for Professional Thesis support (databases, academic articles, plagiarism, bibliography...). Online Workshop on Teams.
---
Réaliser des visuels avec CANVA
Le logiciel CANVA permet de produire facilement des documents attrayants et originaux : infographies, affiches, présentations... Vous pouvez aussi personnaliser vos graphiques ou présenter des statistiques.
---
Tabletop Role-playing Game Introduction (Dungeons and Dragons)
Role-playing is quite a unique kind of game. If you have played "Werewolves", you should be familiar with some of its keypoints : you play a character and make decisions during an adventure and roll dices to see what happens. 3 persons minimum
---
Thèse professionnelle
Atelier de soutien personnalisé pour la thèse (bases de données, articles académiques, plagiat, bibliographie...). Atelier en distanciel sur Teams les 24 octobre et les 14 et 21 novembre. En présentiel au Learning Center les 3, 4, 15 novembre
---
Yoga (Staff only)
Des cours de Yoga réservés au personnel de BSB - Yoga classes for BSB staff
---
Zentangle (BSB Staff Only)
Atelier de relaxation par le dessin de 1h30 (2h) - Cette pratique est à la portée de tous et permet de dessiner en pleine conscience sur une petite tuile carrée de 9 cm de côté.
---